BRUSH COUNTRY CO-OP
106 Bulldog Lane
PO Box 534
Orange Grove, TX 78372

Office: 361.384.2129
Fax: 361.384.2159

P.O. Box 250
1 Longhorn Drive
Agua Dulce TX 78330
Phone: 361.998.2542

P.O. Box 369
4339 4th Street
Banquete TX 78339
Phone: 361.387.2551

913 Houston Street
George West TX 78022
Phone: 361.449.1914

P.O. Box 534
504 S Dibrell Street
Orange Grove TX 78372
Phone: 361.384.2495

P.O. Box 569
6229 FM 798
Pawnee TX 78145
Phone: 361.456.7256

500 N May Street
Pettus TX 78146
Phone: 361.375.2296

224 W Main Street
Skidmore TX 78389
Phone: 361.287.3426

351 S School Road
Three Rivers TX 78071
Phone: 361.786.3603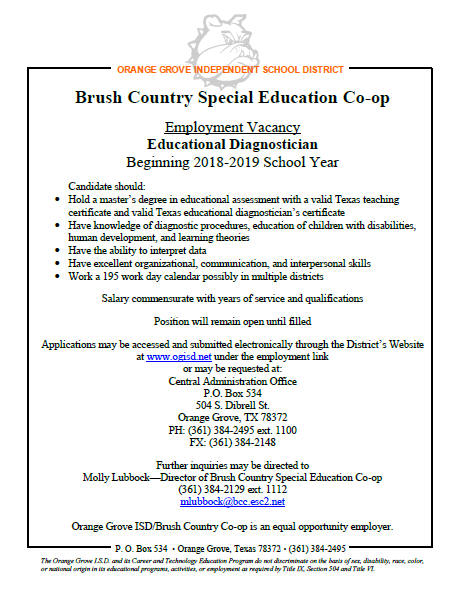 Brush Country Co-op is a shared service arrangement that serves eight independent school districts in several counties located in Orange Grove TX, approximately one hour's drive from Corpus Christi.
We are proudly celebrating 43 years of service to the school communities of Agua Dulce, Banquete, George West, Orange Grove, Pawnee, Pettus, Skidmore-Tynan, and Three Rivers. The cooperative was created to serve the combined special education needs of the individual schools.
Our Mission
It is the mission of the Brush Country Co-op to provide every child within our cooperative the educational opportunity to develop his/her potential. We recognize that in order to develop his/her potential, an exceptional child must participate in the general education process to the maximum extent appropriate with supplemental support and services he/she may require based on individual needs. Our mission is to keep the child the center of our focus as we combine the parents, school, community, and related agencies' efforts to provide the most appropriate education for the exceptional child. Our ultimate goal in the education of the exceptional child is to develop each individual to his/her fullest potential in order for him/her to become a functioning, self-monitoring member of society.

Populations served

(ages 3-21)



Speech or Language Impairment

Specific Learning Disability

Intellectual Disability

Multiple Disabilities

Auditory Impairment

Other Health Impairment

Deaf-Blindness (ages birth through 21)

Traumatic Brain Injury (TBI)

Emotional Disturbance

Orthopedic Impairment

Visual Impairment (ages birth through 21)

Non-categorical Early Childhood

Autism or Pervasive Developmental Disorder